XLTD-003-L

Merzbow – Merzbox with Bonus Cds & Posters

Fifty CDs is a lot of music for any one artist to release. To release them all at once, in a boxed set, is quite extraordinary.

The MERZBOX is just such a release. The MERZBOX also includes a book, CD-ROM, medallion, T-shirt, poster, postcards and stickers and is encased in a custom designed box with metal name plate.

If that isn't enough to make you gasp, the 50 CDs in question are Noise music by Japan's premier Noise musician MERZBOW. Not rock, not dance, not country and western but Noise. This event is unprecedented, even in the history of collector's series of classical music.

MERZBOX is the definitive collection of recorded MERZBOW works, spanning the years from 1979 to 1997. Any less than 50 CDs would not have done justice to the scope and ingenuity of MERZBOW's musical manifesto. All of these CDs will only be available in the MERZBOX.

Masami Akita, the mastermind and musician behind MERZBOW, is also a talented visual artist and writer. Akita has written numerous books, directed videos and produced artwork for nearly all of the MERZBOW releases. He has accomplished in under 20 years what would take a lesser artist many lifetimes to achieve.

Thirty of the titles were painstakingly selected from the MERZBOW archives. A further 20 previously unreleased titles, also recorded throughout the extensive history of MERZBOW, have been included in this musical document. All of the titles show the diversity and development of MERZBOW's Noise music.

"Sound work is an accumulation of pleasure, and the desire for pleasure is endless. Maybe the motivation of MERZBOW is to build a Pleasuredome of Noise – to increase power and difference," explains Masami Akita.

The Boxed Set includes the complete biography of MERZBOW, a book of over 100 pages written by music author Brett Woodward. One of the features of the book is testimonials from musicians who have been inspired by MERZBOW: Jim O'Rourke, Damion Romero, Achim Wollscheid and Eugene Thacker. In addition, Seymour Glass, editor of Bananafish, contributes a resounding endorsement of MERZBOW's talent. The book incorporates over 100 full colour images by MERZBOW.

The CD-ROM, also part of the MERZBOX, was created by notorious Melbourne multi-media designer Troy Innocent. It serves as both a document and an interactive journey into chaos. The CD-ROM includes bonus video footage, images and sound works.

A commemorative bronze medallion, by Melbourne artisan Marcus Davidson, is included in this limited edition Boxed Set. A poster, T-shirt, stickers and postcards featuring MERZBOW artwork complete the collector's edition. The 50 CDs are enclosed in a unique black rubber case, all of this encased in a custom designed box with metal name plate.

The set is to be produced as a limited edition of 1000, a part of Extreme's tenth anniversary celebrations.

Welcome to the Pleasuredome of Noise.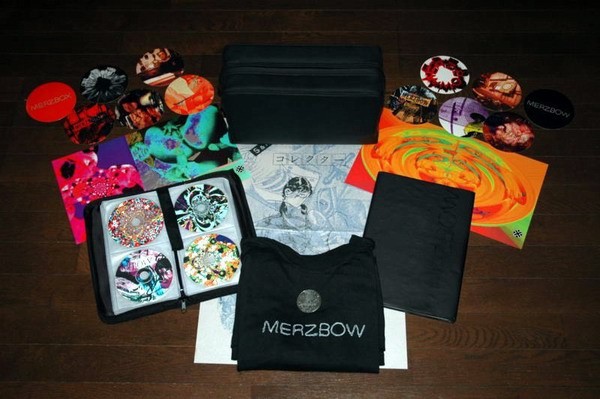 MERZDISCS
Fifty CDs providing as many hours of MERZBOW Noise music. The collection spans from 1979 to 1997, 18 years of sonic decomposition. Many of the titles were only available as cassettes and have long since been deleted. Five LPs and a CD, which were originally released in limited numbers and have since been deleted, are now reissued in the MERZBOX. Also included are 20 releases that have previously never been released. All CDs have four colour CD labels, featuring new MERZBOW artwork. All CDs are exclusive to the MERZBOX.
MERZBOOK
Music author Brett Woodward has written the biography of MERZBOW and how Masami Akita came to do what he does and why he continues to explore the realms of Noise music with such vigour. Various musicians and devotees of MERZBOW, Achim Wollscheid, Jim O'Rourke and Damion Romero, have written about their favourite noise musician. Techno-theorist Eugene Thacker provides a text on the relationship between MERZBOW and eroticism. Jonathan Walker contributes to the book with a written piece once included with the "Collaborative LP". Each album in the MERZBOX is reviewed by writer Brett Woodward and Masami Akita provides explanatory liner notes. All of this in a full colour book with over 100 pages and illustrations.
MERZROM
An interactive multimedia CD-ROM designed by Troy Innocent. It includes additional images, music and video footage that provide a kinetic document of MERZBOW. The MERZROM is both a document and a chaotic device that provides a parallel to the music of MERZBOW. The CD-ROM is both MAC and PC compatible.
MERZDALLION
Jeweller Marcus Davidson reinterprets primitive MERZBOW collage artwork on this commemorative medallion. The bronze medallion is two-sided and cryovac packed.
MERZSHIRT
A T-shirt featuring the artwork that MERZBOW has become infamous for. The black T-shirt is large, long sleeve and made from 100% cotton.
MERZCARDS
A series of postcards that capture the mail art aesthetic that was critical to the early years of MERZBOW.
MERZSTICKERS
Two stickers with all new MERZBOW full colour artwork.
MERZPOSTER
A large gloss poster that gives meaning to the term "lowest arts".
MERZCASE
A 'fetish-rubber' case manufactured specifically to contain all of the CDs, MERZROM, MERZDALLION, MERZCARDS and MERZSTICKERS. The MERZCASE allows for complete portability of the CDs.
MERZPACK
A custom designed hand made box to house all of the collection. It is complete with a photo etched metal name plate on the spine of the box.
The attention to detail and design that is inherent with the MERZBOX can be attributed to the outstanding work of Extreme's own Art Director, Doriana Corda. It is something that needs to be experienced as much as listened to.
Liner Notes
2 Bonus collaborative Cds and posters.
1. Om Electrique (79) Unreleased
Masami Akita discovers electronics and the world is never the same again
2. Metal Acoustic Music (80)
The first MERZBOW release ever and the source of much to follow
3. Rembrandt Assemblage (80) Unreleased
The first MERZBOW recording using tape manipulations
4. Collection Era Vol 1 (81)
The premier release from 'Lowest Music & Arts'
5. Collection Era Vol 2 (81)
The influence of Kurt Schwitters Merz-bau is manifested musically
6. Collection Era Vol 3 (81/82)
Includes bonus tracks from the 'Tridal Production' release
7. Paradoxa Paradoxa (81) Live
MERZBOW's first ever live event at Kid Airak Hall
8. Material Action For 2 Microphones (81)
Improvisations for home objects, akin to John Cage's 'Cartridge Music'.
9. Yantra Material Action (82)
As approved by Fred Frith, this was once destined to be the first LP
10. Solonoise (82)
The ugliest, cheapest sound in the world
11. Expanded Music (82)
Inspired by Stan Brakhage's scratched film
12. Nil Vagina Tape Loops (82)
MERZBOW and tape machine are in minimalist harmony
13. Material Action 2 N.A.M. (83) LP Reissue
The first MERZBOW LP release ever
14. Mechanization Takes Commando (83)
MERZBOW in their industrial hey day
15. Dying Mapa Tapes 1-2 (83)
Rare gems from the days of Aeon
16. Dying Mapa Tapes 2-3 (83)
The mayhem continues unabated
17. Agni Hotra (84) Unreleased
Once destined to be the second MERZBOW LP, now rediscovered
18. Pornoise 1kg Vol 1(84)
The first in a series of very harsh, rough, tape noise music
19. Pornoise 1kg Vol 2 (84)
The sound of demolition, literally and metaphorically
20. Pornoise 1kg Vol 3 (84)
Degradation of sound makes MERZBOW Noise all the better
21. Pornoise Extra (84)
The peak of MERZBOW's industrial period
22. Sadomasochismo/Lampinak (85)
Noise as a shamanic and ritual experience
23. Mortegage/Batztoutai Extra (86) Unreleased
Collage cut-up from the same period that brought 'Batztoutai…' double LP
24. Enclosure/Libido Economy (87)
'Ecobondage' LP provides the source for sonic manipulation
25. Vratya Southwards (87)
This is what can happen with piano strings and a metal box
26. Live in Khabarovsk, CCCP – I'm Proud by rank of the workers (88) LP Reissue
MERZBOW kicks up a storm in Russia (original versions without effects)
27. Storage (88) LP Reissue + Extra
Once again, the full length original versions that didn't make it to vinyl
28. Fission Dialogue (88) Unreleased
MERZBOW as electro-acoustic sound sculpture
29. MERZBOW + SBOTHI Collaborative (88) LP Reissue
The LP that started it all for Extreme, including limited release solo works
30. Crocidura Dsi Nezumi (88)
Environmental drums make unplugged noise music
31. MERZBOW + Achim Wollscheid – KIR Transformation (89) Unreleased
Wollscheid reinterprets MERZBOW live in Hamburg
32. SCUM Vol. 1 (89) LP Reissue
The original long versions and extra tracks
33. SCUM Vol. 2 (89) LP Reissue
More of the brilliance from the last MERZBOW LP on ZSF Product
34. SCUM/Severances (89)
Decompositions of already decomposed SCUM works
35. SCUM/Steel CUM (89)
The original and official version of 'Steel Cum'
36. Cloud Cock OO Ground (90) CD Reissue
MERZBOW with speed, power and distortion – a classic
37. Newark Hellfire, Live at WFMU, USA (90) Unreleased
Imagine crossing NYC by taxi, listening to MERZBOW
38. Hannover Cloud (90) Unreleased
Malignant, dizzying, bleak, black noise
39. Stacy Q, Hi-Fi Sweet Leaf (91) Unreleased
"Crash for Hi-Fi" raw materials are decomposed and deconstructed
40. Music For True Romance Vol. 1 (92) Unreleased
If this is the soundtrack, just imagine the videos they accompanied
41. Brain Ticket Death (93) Unreleased
The birth of the fusion-powered electronics of the 90s
42. Sons Of Slash Noise Metal (93) Unreleased
MERZBOW's passion for metal takes shape
43. Exotic Apple (94) Unreleased
Recorded soon after the 'Dadarotenvator' LP
44. Liquid City (95) Unreleased
You can blame the Hanshin earthquake for this album
45. Red Magnesia Pink (95) Unreleased
Sonic assault from 'Red Eyes', 'Magnesia Nova' and 'Pink Ream' sessions
46. Marfan Syndrome (95) Unreleased
Featuring the talents of Reiko A
47. Rhinogradentia (96) Unreleased
Take an audio generator and an EMS and stand back
48. Space Mix Travelling Band (96/97) Unreleased
Includes raw material for 'Brisbane-Tokyo Interlace' CD
49. Motorond (97) Live Unreleased
The most recent live recording, with Bara providing Hommy chant of Mongol
50. Annihiloscillator (97) Unreleased
New studio works for Noise and Theremin
Thirty reissues from LP, CD and Tape. Twenty previously unreleased albums.